The Ira Butler Trophy 2022 for the Champion Australian Native Orchid Hybrid of the Year was won by Den. Grey Ghost 'Tumbi' owned by Neville Lee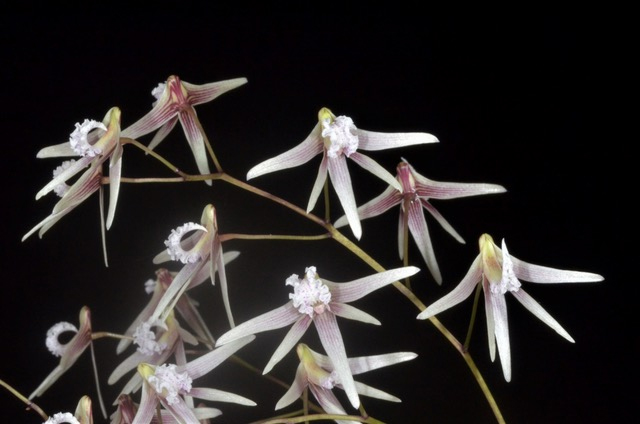 The following nominations each received an  Ira Butler Silver Certificate
Den. Dingadee Gold 'Maya' owned by Carole Barnett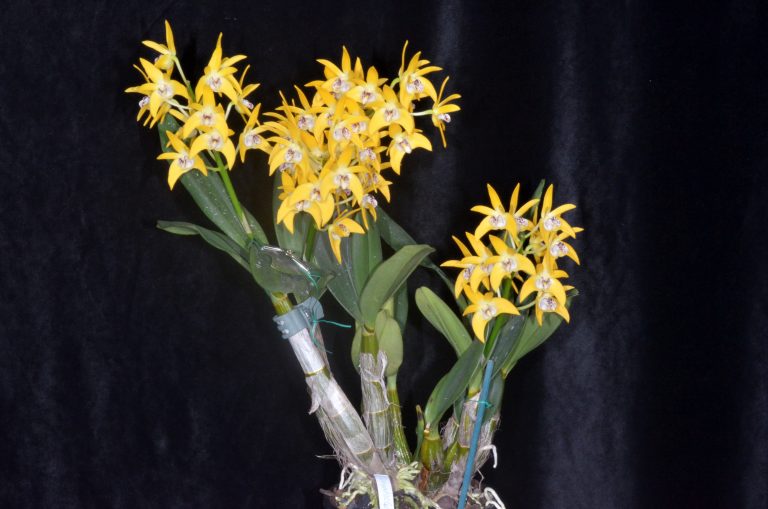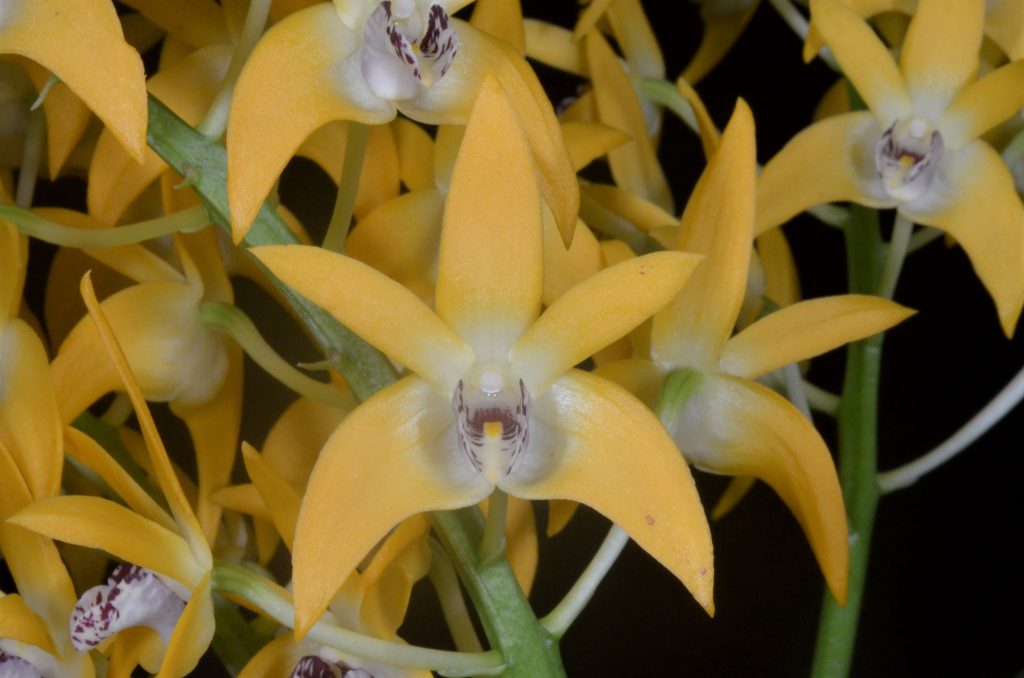 Den. Dunokayla owned by Ron Findlater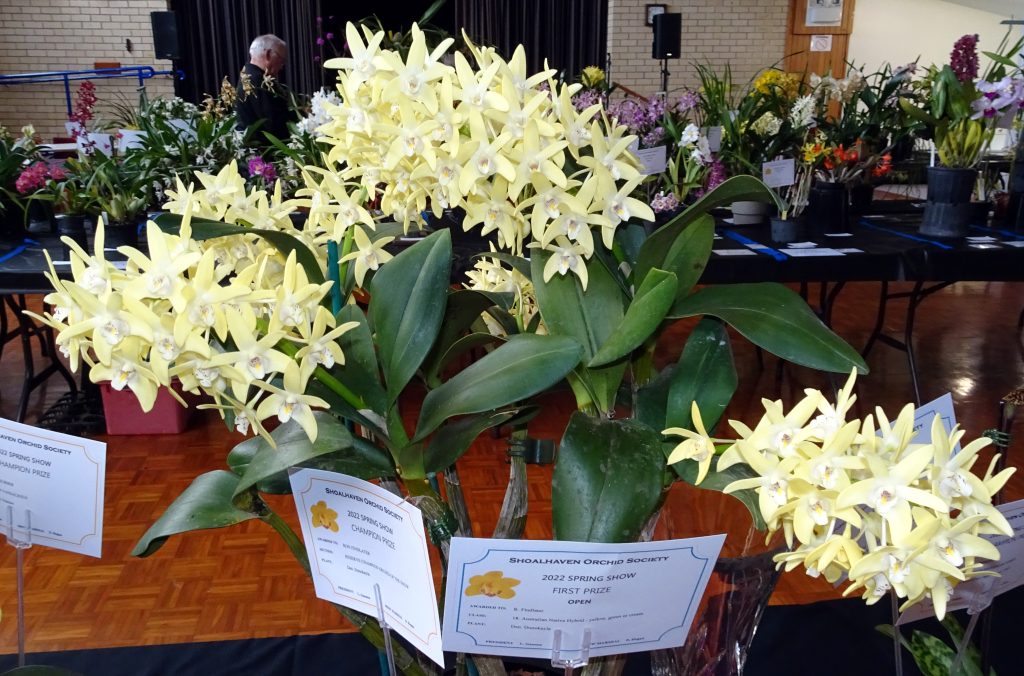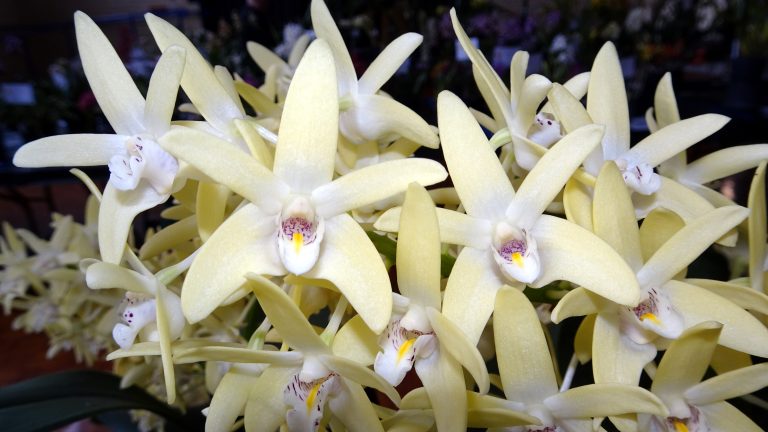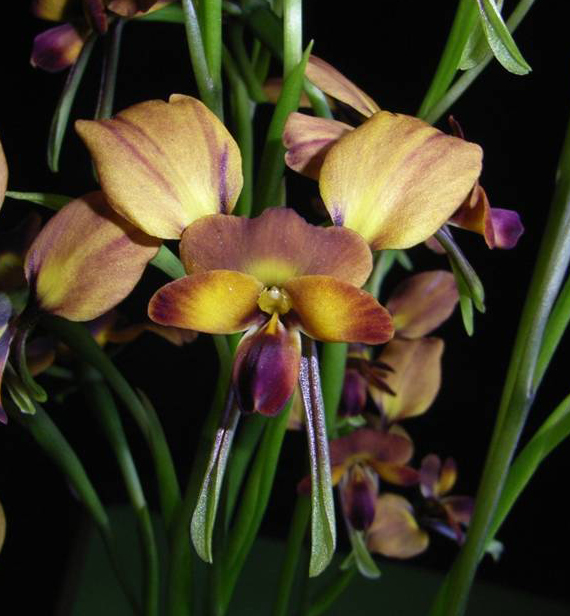 Diuris orientis 'Kuitpo SA'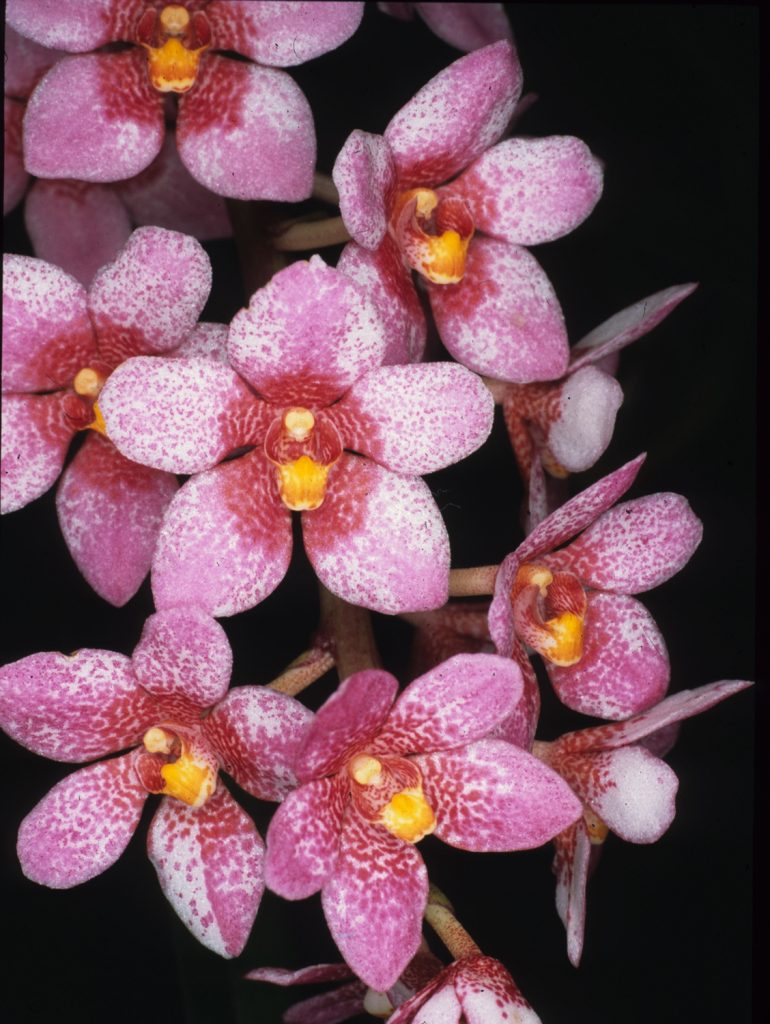 Sarco. Heidi 'Albert Brown'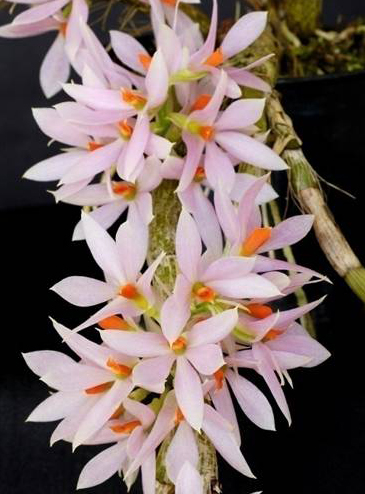 During 1951, while walking in drizzly rain along Pitt Street, Ira Butler picked up a spray of three Cymbidium flowers which had been accidently dropped. At that time Ira Butler was an Agricultural Economist with the Reserve Bank of Australia. He had become interested in growing orchids, mostly Cymbidiums and Soft Cane Dendrobiums; he noted the flowers in the spray were better than any of his Cymbidiums. He decided to use the pollen from what he called his Cymbidium Pitt Street to pollinate his Cymbidium alexanderi, resulting in a pod developing.
Ira was a country boy born in Mungindi, New South Wales, and was sent, at the age of twelve, to attend Sydney Boys High School. From there he matriculated to Sydney University and majored in Agricultural Economics. He took up his position with the Reserve Bank of Australia and progressed to Deputy Head under Dr. Combes. He had been interested in bush walking and married a fellow bush walker, Dorothy English in 1942. As Dorothy Butler, she won the title of Adventurer of the Year given by the Australian Geographic.
By 1952 the pod had developed and Ira and his wife and four children moved to a bush block in Wahroonga. His orchids were scattered under the trees, including one very large bloodwood. He tried to grow the seed from the pod on the compost of his growing plants. For many months nothing happened and he lost interest. However, while cleaning up under the bloodwood the next year, he found four orchid seedlings with leaves two or three inches and growing well. They had grown under the surface of the leaf litter, forming relatively substantial bulbous rhizome root like tissue, similar to some Cymbidium suave seedlings he'd found growing out of a crack in a rotting log in the Blue Mountains during a recent bush walk.
From such beginnings, Ira became interested in orchid hybridization, first with Cymbidium, then Soft Cane Dendrobiums and finally native orchids. His native breeding started with Dendrobium kingianum, a bright and hardy plant that grows on a rock. He pollinated flowers with Dendrobium falcorostrum and Dendrobium speciosum and was surprised to find pods full of ripe seed by Christmas; they were so much faster than Cymbidium crosses. The seeds were sown in flasks and some planted out before the next winter. This was the beginning of his seedlings of Dendrobium Bardo Rose and Dendrobium X delicatum which he used to give away at Orchid Society meetings.
Ira said in an article on Native Orchid Hybrids, that his short term objective was to create better quality and more variety in plants of the Dendrobium kingianum type, giving hardy, compact plants which could be part of anyone's garden in places like Sydney. Although many of his early plants were infertile, he felt that attempts should be made to get fertile hybrids. He envisaged colour range, for native hybrids, from deep red through to white with greens and yellows, some even with contrasting lips. He thought it should be possible to get compact, floriferous plants by crossing Dendrobium kingianum with some of the terete-leaved species as well as Dendrobium monophyllum. Another short term objective was to extend the flowering season so that some plants would be in flower at almost any time of the year and suggested that Dendrobium tetragonum and Dendrobium monophyllum crosses would do just that. He gave financial assistance to Rodger Bedford to build a large shade house where Rodger could on-grow the seedlings for sale.
Ira then began to look around for an orchid group in which work on hybridisation had not yet been undertaken, but which had some promise of attractive results. He picked the genus Sarcochilus. The target for hybridisation program was to produce hardy plants, easy to cultivate with larger flowers of different colours. His first attempt was to cross Sarco hartmannii with Sarco olivaceus. He had many difficulties working out satisfactory methods of culture and many seedlings were lost. Finally, in 1962 Sarco Canary flowered, a beautiful yellow flower with the 'ginger' perfume of Sarco olivaceus. The racemes were upright and showed none of the clumping often seen in Sarco hartmanni. The second cross to flower was Sarco. Fitzhart (Sarco fitzgeradii X Sarco hartmannii ). The coloured centre of Sarco fitzgeradii was dominant, the plants were vigorous and the flower presentation considerably improved. Other hybrids followed; Sarco flacatus X Sarco ceciliae (Sarco Phyllis), Sarco hartmannii X Sarco flacatus (Sarco Melba), Sarco hillii X Sarco hartmannii (Sarco Minuet), Sarco ceciliae X Sarco hartmannii (Sarco Lois), and Sarco hartmannii X Sarco australis (Sarco Southern Cross).
Of all the crosses he was most pleased with was Sarco Lois because of the large flowers and the variety of colours. One of his more successful crosses was Sarco Lois 'Joybells'. It occurred to Ira that there was no obvious reason why some of the Sarcochilus genus should not cross with members of other vandaceous genera. He first tried the intergeneric cross Sarco hartmannii X Rhinerrhiza divitiflora to get a new genus he called Sarcorhiza (now called Rhinochilus). The first hybrid made, he called Sarcorhiza Dorothy, and the second was Rhinochilus Rona. Ira tried a hybrid with Ascocentrum but could not get seed. He also had difficulty getting secondary hybrids but thought that when more hybrids were available this difficulty would be overcome. He suggested that to do this it was necessary to make a back cross before going forward.
The breeding plants Ira used grew in his front garden amongst other native plants. He kept meticulous records of all his crosses, the unsuccessful along with the successful. In the early days he tried various media for propagating; the seed on fence palings, damp towels, and finally flasking on Knudsons medium. He de-flasked when the seedlings were only 3/6inch high and grew his plants as bonsais. As the numbers grew he passed them on to others with larger bush houses or with heat, as he himself did not have a heated glasshouse until two years before he died.
Ira was a large man and somewhat reticent, but was always ready to talk orchids, and willing to help young hybridists. He was always generous with advice and it always made sense, and always ready to give gifts of seedlings. He became increasingly passionate about our native orchids and was appalled by the vandalism of native species by unscrupulous orchid hunters. This was his overriding motive for the breeding of attractive easily grown hybrids for orchid growers everywhere, thus helping to stem the removal of orchid species from the wild.
In 1969, the 6th World Orchid Conference was held in Sydney. Ira was on the steering committee as Treasurer and consultant on Australian Native Orchids. The great financial success of the Conference was credited largely to his advice. He himself received a Bronze medal for his Dendrobium Kingrose, and with his help, North Shore Orchid Society's Native Orchid Display was first in their section.
Suddenly, in 1972, he died while still relatively young. This was a great shock to his family, friends and the orchid growing fraternity. His orchids were dispersed, the Australian Natives given to the Australian Native Orchid Society to be auctioned. Many went back to the Wayside Nursery of W and J Cannon. Others went to Victorian ANOS to be auctioned. Phil Spence has many of his records, while David Cannon of Melbourne also has some. His slides went to Murray Corrigan with copies of his published articles and some notes to John Stuart of Lindfield. Frank Slattery took his exotic orchids.
Thanks for the information in this article go to Ruth Rudkin, John Stuart, Phil Spence, Murray Corrigan, Reg Trenerry, Roger Bedford, Keith Irvine, Bill Smoothy, Laurie and Carrie Friar and David Cannon.